Paula Abdul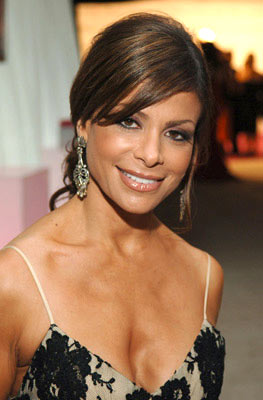 Paula Abdul - Blowing Kisses In The Wind.midi
Paula Abdul - Forever Your Girl.midi
Paula Abdul - Opposites Attract.midi

Paula Abdul Mobile Ringtones
Paula Julie Abdul (born June 19, 1962 in San Fernando, California) is an American dancer, choreographer, singer, and television personality.
In 1988, she released her debut album Forever Your Girl and, after a fairly long time, became a smash hit star. The album spawned five American Top Five singles (out of just ten songs): "Straight Up", "Forever Your Girl", "Cold Hearted", "(It's Just) The Way That You Love Me", and "Opposites Attract". A remix album, Shut Up and Dance, was also released and reached #7 on Billboard's album chart. The video for "Opposites Attract" featured an animated cat named MC Skat Kat. As a sign of Paula's enormous popularity, the cartoon cat ended up with his own record deal later that year. Abdul's voice was sampled on one track and she appeared in the video for the first single.
Controversy erupted in Paula's music career when three weeks prior to the release of her sophomore album, Spellbound, backup vocalist Yvette Marine filed a million-dollar lawsuit against Virgin Records, claiming that the company had blended her voice with Paula's lead vocals on songs "Knocked Out", "Opposites Attract" and "I Need You" from Forever Your Girl. Marine claimed that she was inaccurately credited as a backup singer when she was really performing "co-lead" vocals with Abdul. Virgin Records went to great lengths to bring as much evidence into court as possible (such as live recordings of Paula's vocals) and eventually won the case against Marine.
Her follow-up album, 1991's Spellbound, is often overlooked in musical history. Abdul made such an impact in late-1980s music that when her second effort was released in the early 1990s, everyone assumed it would be less successful. Instead, it unleashed another string of hits "Rush, Rush" (which topped the Billboard Hot 100 chart for five consecutive weeks, thanks to its George Lucas-directed video, and Rebel Without a Cause premise featuring Keanu Reeves in the James Dean role), "The Promise of a New Day", (also a chart-topper) "Blowing Kisses in the Wind", "Vibeology", and "Will You Marry Me?". The first single "Rush, Rush", was a ballad, which surprised many as singers generally release an up-tempo song as a first single. The album Spellbound retained much of the dance-oriented formula heard on her debut album. The track "U" was written for Paula by Prince.
As Abdul's image shifted slowly from "beautiful" to "pretty", gossip began to circulate about her weight. At only 5 ft 2 in (157 cm), Abdul did not have the height commonly associated with dancers and choreographers. In her music video for "Promise of a New Day", a visual effect was used which stretched images vertically on the screen. Tabloids claimed this was to make Abdul appear taller and thinner, which was ridiculous since every image on the screen--including other dancers--were stretched as well. Then, in an appearance on the MTV Video Music Awards, Abdul did a live performance of "Vibeology" wearing a sequined one-piece bustier outfit. A microphone pack (poorly placed in a built-in pocked at the small of her back) gave Abdul a round appearance, only adding fuel to the fire. Morning radio hosts were merciless the following day. In truth, Abdul was in the best shape of her adult life. In a sadly ironic twist, Abdul appeared in an ABC television interview with Diane Sawyer in 1995 and revealed that she'd been in recovery from a lifelong battle with bulimia.
Spellbound didn't sell as many copies as Abdul's debut album (that would have been quite a feat) but it was very successful nonetheless and it did ascend to the top of Billboard's Album chart. Abdul took a break from recording and resurfaced in 1993 with an exercise video.
In 1995 Abdul released her fourth album, Head Over Heels. With modest radio hits with the singles "My Love Is for Real", "Crazy Cool", and "Ain't Never Gonna Give You Up", she showed that she was still able to create popular music while moving with the times. The first single off the album, "My Love Is for Real", featured a fusion of R&B and traditional Middle Eastern instruments. It's accompanying Lawrence of Arabia inspired music video had was played in theaters across the world as a preface to the film Clueless. It was a hit in dance clubs (peaking at #1 on Billboard's Dance Music/Club Play chart) but the single stalled at #28 on Billboard's Hot 100 chart. The second single, "Crazy Cool", was accompanied by a music video wherein Abdul is seen riding a mechanical bull and pouring beer over her chest. Virgin Records, possibly counting on name-recognition to move copies (a habit of theirs), didn't put nearly as much muscle behind promoting the album and, although it moved plenty of copies, Head Over Heels didn't sell as well as the previous two.
In the year 2000, the CD Greatest Hits was released. It featured an array of hit singles from all three of Abdul's previous albums, as well as other noteworthy tracks. The song "Bend Time Back Round", included on the CD, had only been heard previously on the 1993 soundtrack of the hit television series Beverly Hills 90210.
Abdul co-wrote Kylie Minogue's 2000 hit single "Spinning Around".
Paula has claimed several times that she is working on releasing another album (rumored to have the working title Paulatix of Love), although its release has been delayed several times. She originally signed with Mercury Records in 1997 and was going to release her album in Spring 1999, but the album was postponed due to the merger between Universal Music Group and Polygram (which Mercury Records is under) causing layoffs of many music acts, including Abdul. The second scheduled release date was the Summer of 2000, but that release date was later cancelled as well. As of 2005, she is working with fellow American Idol judge Randy Jackson to produce her new album and hopes to find another record company to release it.