Born:
March 10, 1983 - Checotah, Oklahoma.
Quote From Carrie Underwood:
"All of us gave it all we've got, overcame a whole lot just being on the show and learned a lot about ourselves. We're just normal people trying to do what we love and follow our dreams."
Growing Up:
Carrie Underwood was born and raised on a farm in Checotah, Oklahoma. She started singing as a very young girl and made her first recording at age 13. Underwood graduated from high school as salutatorian of her class. She attended Northeastern State University, majored in mass communications, and joined the Sigma Sigma Sigma sorority.
'American Idol' Contestant:
While a senior at Northeastern State University, Carrie Underwood entered the 4th season competition of American Idol. Her preferred music to perform is country, but she also performed in other genres such as pop and rock during the weeks of competition. By the time Carrie Underwood became one of the 2 remaining finalists, she joined Kelly Clarkson and Clay Aiken as the only American Idol contestants who were never part of the bottom 3 during any week of the competition.
Trivia Fact About Carrie Underwood:
Carrie Underwood was selected as runner-up in the Miss NSU beauty pageant in 2004.
'American Idol' Victory and Musical Career:
On March 25, 2005 Carrie Underwood defeated Bo Bice to win the 4th season of American Idol. As part of her winnings, Underwood received a recording contract. Her first single, "Inside Your Heaven," was released in June 2005. It sold nearly 170,000 copies combining physical and digital formats and debuted at #1 on the Billboard singles chart.
In the time between release of her single and the release of her first full-length album, Carrie Underwood accepted a number of commercial endorsements. These included commercials for Hershey's chocolate singing the jingles for various candy bars. She also followed in the footsteps of Christina Aguilera and Britney Spears by becoming the spokesperson for Skechers shoes.
Carrie Underwood's first album is scheduled for release November 15, 2005. A single will precede the album in October.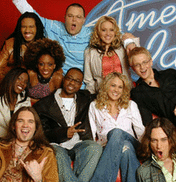 To download the logos, right click and save to your local hard drive. Then use your latest software to upload it to your mobile.