s600i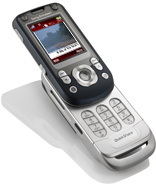 s600i Mobile Image

Gaming is also key in the S600i, which offers three pre-installed 3D-enabled games including Worms Forts: Under Siege 3D, Extreme Air Snowboarding and a new multi player version of Midways Gauntlet which relies on the Bluetooth capabilities of the S600i for head-to-head combat. The handset is also fitted with support for J2ME MIDP 2.0 for adding further 3rd party applications, and also boasts a full HTML browser as well as exchangeable covers.
s600i Ringtones
Polyphonic mobile ringtones for your s600i mobile.
Arabian Dance Nutcracker Suite - Tchaicovsky.midi
Christina Aguilera - Fighter.midi
I need a girl (part 2) - P Diddy.midi
J Lo - Jenny From The Block.midi
Outkast - So Fresh So Clean.midi
Snuggling up to the feature set of its bigger brother, the S700i, Sony Ericsson's new S600i offers a 1.3 MP camera, high-resolution display with 262K colours and an RDS FM radio.