Trisha Yearwood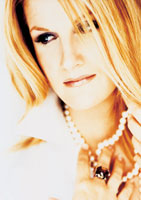 Trisha Yearwood - how do i live.midi
Trisha Yearwood - Believe me baby (I lied).midi
Trisha Yearwood - Everybody's Talking.midi
Trisha Yearwood - I Need You.midi
Trisha Yearwood - I Still Love You More.midi
Trisha Yearwood - Like We Never Had a Broken Heart.midi
Trisha Yearwood - Perfect Love.midi
Trisha Yearwood - She's In Love With The Boy.midi
Trisha Yearwood - There Goes My Baby.midi

Trisha Yearwood Ringtones
Trisha Yearwood (born September 19, 1964) is a country music singer. She was born in Monticello, Georgia, but developed her musical talent in Nashville, Tennessee, where she was a student at Belmont University. Her first number one single was "She's in Love with the Boy" (released 1991).
She married her first husband, Christopher Latham, in 1987 but the two divorced in 1991. Trisha married Robert Reynolds, the bass player for the Mavericks, on May 21, 1994, and they divorced in 1999.
On May 25, 2005, Yearwood became engaged to fellow country superstar and longtime friend Garth Brooks in front of 7,000 fans. On December 10, 2005, they were married in a private ceremony at the couples' home in Oklahoma. It was Brooks' second marriage and Yearwood's third. Brooks has three daughters from his first marriage--Taylor, August, and Allie.
Musically, Yearwood cites Linda Ronstadt as her biggest influence, and Ronstadt's sound and vocal stylings are clearly apparent in Yearwood's music. Other influences include Emmylou Harris, Patsy Cline, and Elvis Presley.
Her newest album, Jasper County, released in 2005, returned her to a purer country sound after her previous few albums.
Yearwood has won three Grammy Awards among several nominations. She has also won the Country Music Association and Academy of Country Music awards for Best Female Performer (CMA: 1997, 1998; ACM: 1997).