Tori Amos mobile ringtones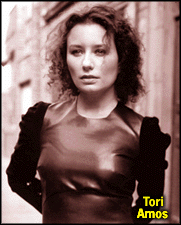 Tori Amos - Muhammad My Friend
Tori Amos - Silent All These Years
Tori Amos - Smells Like Teen Spirit
Tori Amos mobile ringtones

Tori Amos Mobile Ringtones
Tori Amos (born Myra Ellen Amos on August 22, 1963 in Newton, North Carolina, USA) is an American singer-songwriter. She is married to her English sound engineer Mark Hawley, and they have one daughter together, Natashya "Tash" Lorien Hawley, born on September 5, 2000.
Amos was one of a number of confessional female singer-songwriters in the early 1990s and is noteworthy as one of the few modern popular music stars to utilize a piano as her primary instrument. She is known for lyrically opaque but emotionally intense songs that tackle a wide range of subjects, including orientation, religion, patriarchy and personal tragedy. Some of her charting singles include "Crucify", "Silent All These Years", "Me and a Gun", "Cornflake Girl", "A Sorta Fairytale", "Professional Widow" and "Spark".
Amos has experienced limited chart success in the United States and the United Kingdom but has also enjoyed a large cult following. She is also known for making eccentric comments during interviews and in concerts.
In late February of 2005, Amos returned to superstardom with a new concept album, The Beekeeper. The album deals with topics like death, adultery and romantic conflict, and makes brief reference to ancient Gnostic mysticism. It was leaked to the Internet over a month before its release. Early reviews described it as her most lyrically accessible, and reminiscent of her first album. The music is perhaps Amos' most melodic, and sees a move towards a more groove-based sound, evidenced by the appearance of the London Community Gospel Choir on four songs and Amos' whirring B-3 Hammond organ which Amos says was a gift from her husband.
"Sleeps with Butterflies" was the first single released from the album, with "Sweet the Sting" following in the summer. Neither was released commercially. The album itself reached UK #24 and US #5, making Amos one of an elite group of women to have secured five or more US Top 10 album debuts. Despite this feat, however, "The Beekeeper" remains Tori's weakest selling album to date (233,000 copies, even less than the 1992 and 1996 EP's "Crucify" and "Hey Jupiter".) It is, however, her highest charting album in Germany (#8). Amos' general disconcern with the commercial side of the music industry was showcased when on the "Original Sinsuality" tour she did not bother performing the first single from the album in many cities. It is usually expected by record companies of a modern musician that they perform their singles or hits regularly.
The accompanying tour, dubbed the 'Original Sinsuality Tour,' began April 1, 2005 and was Amos' first solo tour since 2001, bringing out piano and organ. The tour also encompassed Australia, Amos' first trip there to perform since 1994. The tour received mixed reviews, but continued into the late summer of 2005 through Europe, including appearances in June 2005 at the Glastonbury Festival and Patti Smith's Meltdown festival in London. Several American tour dates following the tour overseas. The tour finished in the States as the 'Summer of Sin', which received much better reviews than the U.S. Spring Leg. A major feature of the tour was that fans could nominate cover songs on Amos' website which she would then choose from to play in a special section of the tour. One of the songs chosen was the Kylie Minogue hit "Can't Get You Out of My Head", which Amos dedicated to her the day after Minogue's sickness was announced to the public. Other songs performed by Amos include The Doors' "People are Strange", Joni Mitchell's "The Circle Game", and Led Zeppelin's "When the Levy Breaks".
In conjunction with the album, Amos released an autobiography entitled Piece by Piece; co-authored by rock music journalist Ann Powers, it delves deeply into Amos' obsession with mythology and religion. It explores her songwriting process while telling the story of her progression into fame.