Panasonic X200 mobile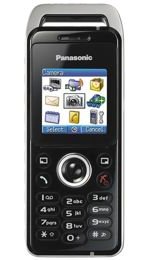 The infra red facility on the X200 lets you upload or download pictures and data between suitable infra red devices including computers and personal digital assistants (PDAs).
Panasonic X200 Ringtones
Polyphonic mobile ringtones for your Panasonic X200 mobile.
Busta Rhymes & Mariah Carey - I Know What You Want.midi
Always Look on the Bright Side of Life.midi
The X200 is equipped with a 65,536-colour TFT LCD screen so you can view photos in all their natural colours. Enjoy high-quality reproduction of photos you've created; select standby screens from among those pre-installed, or you can also download additional wallpapers from the Panasonic Box site.