Dennis Rodman mobile Wallpaper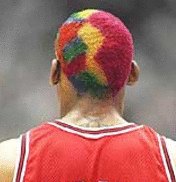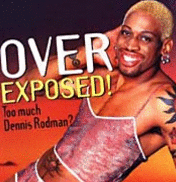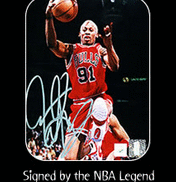 Dennis Rodman mobile Wallpaper


Dennis Rodman Mobile Wallpaper
Dennis Keith Rodman (born May 13, 1961 in Trenton, New Jersey) was a professional basketball player mostly known for his controversial antics on and off the court and as a top defender and rebounder.
When he entered the NBA in 1986, he was listed as 6' 8" (2.03 m), although he was actually 6' 5" (1.98 m). Rodman played one of the most physical positions in basketball at power forward, and despite giving up as much as half a foot in some matchups, was considered perhaps the top rebounder of his generation, and one of the best defenders at his position.
Rodman, who grew up in Dallas, Texas, was far from a basketball prospect as a high-schooler; he only became a prospect when he grew 11 inches (27 cm) in one year late in his teenage years. After a stint in junior college, he played for Southeastern Oklahoma State University, an NAIA school. There, he was a good scorer as well as a good rebounder.

The Detroit Pistons took sufficient notice of him to select him in the second round of the 1986 NBA Draft. At that time, the Pistons were an up-and-coming team led by Isiah Thomas at point guard, Joe Dumars at shooting guard, and Bill Laimbeer at center. They had notable role players in Adrian Dantley, Vinnie Johnson, John Salley, and Rick Mahorn. Rodman's intensity was a perfect fit for a team known for its rough style of play and tenacious defense. The Pistons were knocked out of the playoffs in 1987 by their nemesis Boston Celtics, although Rodman did a decent job of guarding their star player, Larry Bird.
In 1991 the Pistons were jolted when they were swept by the Bulls in the Eastern Conference finals. Rodman led the team in rebounding, but it wasn't enough. Rodman would have to raise his level of play, and he did.
In 1992, Rodman was phenomenal, averaging over 18 rebounds a game as he won the first of seven straight rebounding titles. Rodman didn't overpower or outreach opponents. Instead, he used an almost scientific approach to calculate how the ball would ricochet off the basket to be in prime position to grab it. 1993 was Rodman's second top rebounding season, but his last with the Pistons. In the offseason he was traded to the San Antonio Spurs for Sean Elliott.
In San Antonio, Rodman's famous "wild side" really came out. His off-court life, including a brief but heavily-publicized relationship with Madonna, and on-court antics, such as dying his hair, proved too much for the Spurs. The last straw was when he failed to arrive with the rest of the team for the critical fifth game of the conference finals. Rodman's last straw may have arrived before this point. He was found sitting in his pickup truck with a loaded shotgun one night in the Spurs' parking lot. Rodman claimed in one of his two autobiographies that night was when he sold the old Dennis and let the new Dennis emerge.
Rodman left Chicago after the season as the Bulls started a massive rebuilding phase. He also finished his last major season, as he would only have brief stints with the Dallas Mavericks and Los Angeles Lakers. Rodman was the premier rebounder of the nineties with seven straight titles, and matched up defensively with players ranging from Michael Jordan, Scottie Pippen, Magic Johnson, and Larry Bird to Shaquille O'Neal, Alonzo Mourning, Shawn Kemp, Karl Malone, and Charles Barkley. His most impressive feat was during the '96 Eastern Conference Finals against the Orlando Magic, when the 6 ft 6 in, 210 pound (95 kg) Rodman shut down the 6 ft 10 in, 235 pound (107 kg) Horace Grant and helped contain the 7 ft 1 in, 330 pound (150 kg) O'Neal, key to the Bulls' eventual sweep of the defending Eastern Conference champs. It has recently been rumoured that he plans to play with the Tijuana Dragons of the American Basketball Association.