Cricket World Championships
In this cricket game, you are basically are batmans and need to score boundaries to win the game. The gameplay is very limited as there is not much control of the batter. A great game for the mobile as it can be played while waiting for the bus as it takes a minute to start up and a minute to finish. Not a challenging game, but for cricke lovers its a must.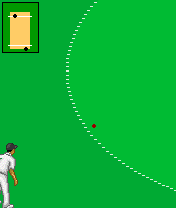 Free Download Here >> The Cricket Game
More Java Games can be found in the games section.