Chess Master Mobile Game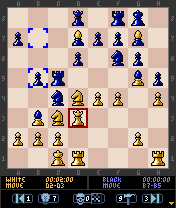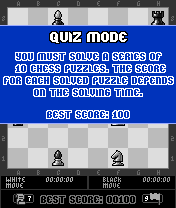 This Mobile Game will work on any Java Enabled mobile phone.
Chess Master Java Game

Chess Master Mobile Java Game
Enjoy the worlds best-selling chess game, available at last for your mobile phone! When your screen turns into a chessboard, your powers of thought and concentration will really be put to the test. And maybe you will see through the Masters strategy and outwit his moves! But will you get the better of the Master in the end?
Chessmaster is a faithful adaptation of the PC game, more than 5 million of which have been sold, which will sweep you off into some truly gripping games of chess. You will be knocked out by the scope of its game engines AI and the quality of its moves. The Master is a first-rate opponent who adapts to your own level, simulating to perfection the reactions of a genuine player. He respects the official rules, enabling you to improve your technique and enjoy countless hours of fun.
On request, he can turn into an assistant, advising you on the next move to play. In Classic Games mode, you can replay the greatest games in the history of chess. Plus there is Quiz Mode, to test your ability to solve increasingly mindbending chess problems!
Using the official ELO ranking system, Chessmaster allows you to confront virtual opponents with between 800 and 1800 ELO points, providing 9 different levels of difficulty to suit all players, from beginners to the most highly skilled.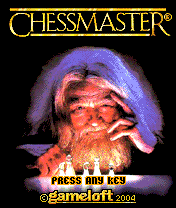 Free Download Here >> Chess Master