Brother Bear Mobile Java Game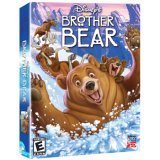 This Mobile Game will work on any Java Enabled mobile phone.
Free Brother Bear Mobile Java Game

Brother Bear Mobile Java Game
Help Kenai and Koda work together as they journey through a mystical wilderness to reach the mountain peak where Kenai can become human again.
Disney's Brother Bear, the mobile java game, allows the player to immerse himself or herself in the fully interactive version of Kenai's world, being thoroughly entertained and a part of the lush 3-D environment. Not only can players play Kenai and Koda as bears, they can also transform into a wolf, crow, and an eagle! Features real-time 3-D gameplay based upon the grand adventure of Brother Bear, a fully interactive world and ability to play with seven characters from the film! For kids ages three and up.
Features:
Explore Kenai's fully interactive world
Experience a lush environment
Real-time, 3D gameplay is based upon Brother Bear's grand adventures
Play Kenai and Koda as bears
Transform into a wolf, a crow, or an eagle
Product Description
Play as one of 7 characters—including Kenai and Koda—from Disney's film "Brother Bear". A disney game for all ages.
Click Here To Download Brother Bear The Mobile Game for Free.