Blade Trinity Mobile Java Game
Become Blade the half human/half vampire as you take on the creator of the whole vampire nation. Whether it's a sweeping sword cut or a hail of silver bullets, nothing can stand in your way as you join up with the beautfiul Abigail to infiltrate Dracula's deadly fortress and find the only weapon that can send him back to hell. Fail and the whole planet becomes a vampire infested wasteland! With incredible 3D Graphics, non-stop action and an awesome range of deadly enemies this is the greatest thrill ride ever for your mobile.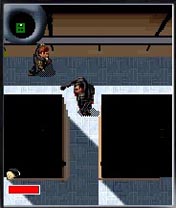 Amazing graphics give you a dynamically changing bird's-eye view of the action, so you're always ready to take on the next threat.Stop enemies by blocking entrances with chairs, water coolers and other furniture, as you battle against the vampire horde.Use a variety of weapons, including hand-to-hand fighting, the silver bullet gun and Blade's signature sword, glaive and silver stakes.Get help from the Nightstalkers Abigail and Hannibal King as they advise you where to go and what weapons to use on your enemies.Fight across four completely different levels: the police station, vampire labs, rooftops and Drake's Towers.
Click Here To Download The Mobile Game. Blade Trinity